About CED Coating Plant
A associate company of Painting and Coating systems groups managed by a team of professionals of around Twenty four years experience in field of surface coating. We value our customers and Endeavour to offer the best in finishing business like paint shops, Injection Molding, Packaging, Irrigation extrusion, flexi tube.
OUR COMPANY IS :
Mahindra And Mahindra Approved CED plant . Certification : ISO9001.
PAINT SYSTEM :
Paint System used : Asian PPG Black CED. Area wise- we currently posses a capacity to coat 4000Sq. mtrs/ day… Apparently 1 lakh Sq mtrs a month Company posses a covered storing area of 2000 Sq mtrs. and 1500 sq mtrs. Parking area for logistics movement
Information Brochure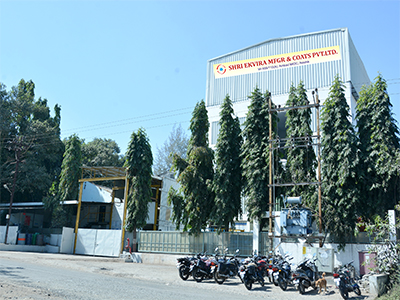 W-109/110(A), Nashik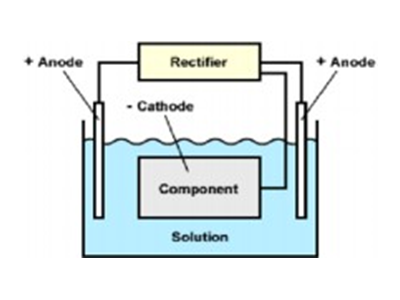 What Is CED Coating
Cathodic Electro Deposition (CED) is a process of coating an object having a conductive surface connected to a circuit as the cathode, by positively charged paint particles suspended in aqueous medium, under direct current. A combination of dip and spray ensures the reach of paint at every corner of component having intrinsic shape as well.
What Are The Benefits Of CED Coating
HIGH CORROSION PROTECTION TO EVERY CORNER OF PART.
UNIFORM COAT THICKNESS STRUCTURE.
VERY GOOD ADHESION BEHAVIOUR.
USEFUL FOR ANY TYPE OF PART GEOMETRY.
ECONOMICAL FOR ALL TYPE OF METAL PARTS.
Layout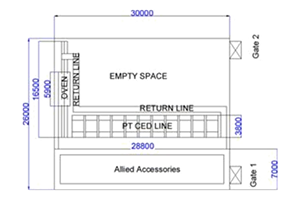 Our Products
Sr.No
Description of test
Test Method
Performance Data
1
Gloss at 60 Deg. Head
ASTMD 523
60 – 75 %
2
Pencil Hardness
ASTM D3363
2H Minimum
3
Crosshatch Adhesion
ASTM D3359
4B – 5B (1 mm * 1mm). Passes 100 %
4
Direct Impact
ASTM D2794
100 in-lb Minimum
5
Reverse Impact
ASTM D2794
60 in-lb Minimum
6
Humidity
ASTM D1735
1000 Hours Minimum
7
Water Soak
ASTM D870
1000 Hours Minimum
8
Gravelometer
GM9508P
6 Minimum
9
Throw power
GM9535P
Ford Box
12 – 15 inches
Min 21 Cms.
10
Salt spray Test
ASTMB 117 –
Neutral
Passes Min 1200 hrs. Creep width Max 3.0 average. No
blisters / corrosion spots
11
Scab corrosion resistance
GM9511P
Passes 20 cycles. Creep width Max. 2.0
12
Chip resistance
SAE J400
4B (50-74 chips, 1-3mm diameter)
13
Cyclic corrosion test
FLTM BI 123-03
ASTM D 610
Passes 20 cycles